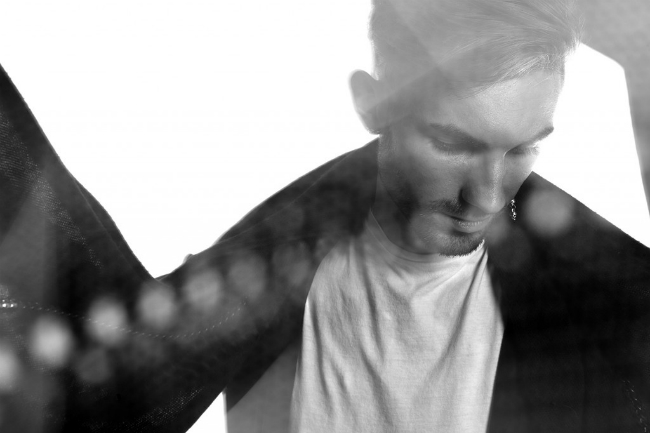 When it comes to approaching your first full artist album, no matter who you are, it's a daunting task – never mind when you lose your first rounds of drafts and ideas through technological mishaps. There's a lot of pressure poured on you, especially if you've moved on in terms of sound from what first got you attention in the first place. This was the case for Sigha, one of a wave of artists who happened to start out at a time when the dubstep end of beatmaking was open to experimentalist using sub bass in a multitude of different ways even if they were finding their niche more at the four four techno side of things. A seemingly fitting analogy comes from his formative days working in the basement at BM Soho. The subterranean floor is more of a d&b and dubstep spot but Sigha transcended upstairs to the techno records…

Things move on and as his interest in techno grew it really became the sound to take him forward with his creativity and he started developing his debut album for Hotflush entitled Living with Ghosts - which he's toasting with us in Room Two this weekend. It proves to be a fertile time then to catch up with the ever growing talent to find out how, rather than taking a breather after the LP release trail, Sigha currently has a multitude of projects under the go. All ready to come into fruition later this year they include his collaborations with another of last year's strongest new artists, Shifted, and the fresh energy he's pouring in to his Our Circula Sound imprint.




Hey James, happy new year to you – how was yours?


I spent the Christmas period and the New Year back in the UK with my family. I was a busy towards the end of last year and it's set to be an even busier start of 2013 so it was really nice to have some downtime.



Last year you played the birthday – how was your experience of our 31 hour long party?


fabric is an amazing club to play, the system is obviously incredible and the crowd there always react well to my sound and are definitely there get down, so the atmosphere at an extended party like that is pretty intense. I played fairly early on Saturday night but I came back on Sunday evening and it was still electric in there, so many people I spoke to had been there for the duration. Extended parties of that length are a weekly occurance in Berlin, but they rarely seem to happen in London. Even though I've left I still see it as my home turf so it's very special to be part of something like that there.



You're down to mark the release of your album, although it was in the stores last year can you tell us a bit about the ideas behind it and the process with which it was created?


It was a long process, broken up by computer crashes and moving countries. I'd written well over half the LP when my studio computer died and I had to start over, bar a few tracks i managed to salvage. I think this ended up being a positive though, it gave me a bit more time to think about how i wanted to approach the album. By the time the second draft started to take shape i was settled into life here in Berlin and had come around to the idea of a more balanced project. I really wanted it represent me across the board as an artist.



Has it been making the body of your sets up for the last year – have you been pleased in the effecting results it has had on the dancefloor?


I've been playing certain tracks a lot, Scene Couple, Dressing For Pleasure (Ideal), Puritian. These were actually written with specific points in my sets in mind, so I've been really happy to see the results on the floor when they've been played.



What direction are you currently working in – you've talked recently about how you've been finding yourself immersed in the world of drone?


I'm working on several projects at the moment that won't be released as Sigha , I don't want to go into too much detail at the moment simply because my attention span means they might take a while to actually finish.

One is an LP of ambient and slower electronic music, although its non-techno I suppose it's very informed by it, which I don't see as a problem really. I'm trying to focus a bit more on melody, it's definitely 'sunnier' than anything else I've done previously but maybe that's not saying much.
The other project I'm really excited about is much darker, made up of processed field recordings. At the moment it's still in its early stages and I'm just collecting sounds for it but the concept behind it's really strong and something that I'm hugely interested in.

Techno wise I'm getting tracks together for a few new EPs for Blueprint, Avian and my OCS imprint as well as finally finishing a collaboration with Shifted and starting a new project with Truss.



I know sometimes new material is tested months and sometimes years ahead by most producers and by the time the album's out for some people they've predominately moved onto newer material when they play out…would people expect to hear dubs of unreleased work being tested more than your older material in the club?


A mixture really I suppose, when I finished 'LWG' I found focusing on techno a bit of a struggle, the old post-lp blues cliche I guess, but it feels like I've finally found my groove again and I'm enjoying writing and playing out newer tracks. It's always good to test something out on a crowd and a good system if that's the environment you want it to be heard in.



What external experiences have been most inspirational for you at this point? I know you're an individual that takes in a lot from other cultural realms outside of technoland


I think we've got to the point where we're so bombarded on a daily basis with external stimuli that it's more a question of what you choose to shut out and ignore when it comes to things influencing you creatively. I live a pretty reclusive life style compared to a lot of people really, perhaps to an unhealthy extent, but I find this helps me retain a semblance of focus when I sit down to work.
I enjoy visiting galleries, it's not even just about drawing something from the works themselves, but I find it encourages me to think about the artistic and creative process.



Would you see yourself working outside of the traditional music process in future – say club / records /album in future in way of collaborations with artists or fashion designers? Has that crossed your mind before?


Definitely, these are things that I'd like to do at some point, but I think I've got more than enough on the go currently, unfortunately there are only so many hours in the day.



Onto a collaboration I know to be in action currently, I've seen you're planning events with Shifted's imprint Avian vs Our Circula Sound – what lead you to work together in this way?


Shifted's been a very close friend of mine for a long time now, we share a lot of common ground and mutual interests both in and outside of music. We've been talking about the idea of putting on a collaborative party to showcase both imprints for a while, but we weren't anticipating the level of interest that the project would generate. It exciting to have seen the concept grow in a short space of time from an idea into something concrete.



Do you have a plan for 2013? What releases do you have locked down?


Personally, the projects I already mentioned are going to be my focus this year. My label Our Circula Sound will be picking up the pace, we've signed some great new material from some new artists I'm really excited about and it's about time I released a solo 12 on there as well.

The AVN/OCS parties and collaborative release series from both labels will also be taking up a chunk of my attention.
If you happen to be in London tomorrow you'll be able to catch Sigha performing alongside DVS1 in Room 2 at fabric. Tickets are available through the fabric Website. For more info on Sigha, head over to his Facebook Fan Page.