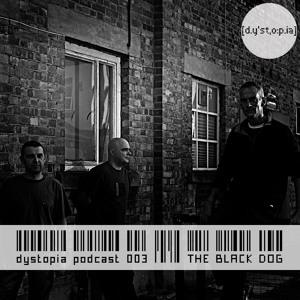 We've been meaning to post this one for a while and today seemed like just the right occasion. The Dystopia Podcast is now into it's 3rd episode and they welcome their next headliners, The Black Dog, to display their considerable talents.
The podcast is a continuation of their Dark Wave collection of mixes and can be streamed or downloaded from the soundcloud player below
Dystopia Podcast 003 - The Black Dog (Dark Wave Volume Nine)
by
dystopiaonline
Tracklisting
1) Pariah - Among Those Metal Trees [R&S Records]
2) Perc - Boy [Perc Trax]
3) Burial - Etched Headplate [Hyperdub]
4) Orphx - Cut Through [Sonic Groove]
5) Mike Dehnert - Fraction [Fachwerk]
6) Orphx - Preta Loka [Sonic Groove]
7) Orphx - Cut Through [Sonic Groove]
8) Pariah - Rift [R&S Records]
9) Guy Andrews - The Wait [Hotflush]
10) Mike Dehnert - Resize [Fachwerk]
11) Bas Mooy - Kneel [Perc Trax]
12) Konrad Black & Art Department - Graveyard Tan [No 19 Music]
13) Planetary Assault Systems - Function 4 (Marcel Dettmann Bass Dub) [Mote Evolver]
14) Oscar Mulero - Inaccurate Information [Warm Up Records]
15) Oscar Mulero - Instant Widespread Of The Dirt [Warm Up Records]
16) Bandshell - Loop [N/A]
17) Oscar Mulero - The Dirt [Warm Up Recordings]
18) Rrose - Waterfal [Sandwell District]
19) Cobblestone Jazz - Across The Nation [Wagon Repair]
20) Cub 2 - Re Edit [N/A]
21) Mike Dehnert - Modular [Fachwerk]
22) Planetary Assault Systems - Function 4 (Lucy Remix) [Mote Evolver]
23) Oscar Mulero - To Convince For The Untruth [Warm Up Recordings]
24) Ghosting Season - Through Your Teeth [Last Night On Earth]
The London party throwers also caught up with the enigmatic UK trio...
Describe to us the current line-up for both production and live performance.
[TBD] We sit with our machines across six different locations making the music we want, for live work we use less machines and fewer people.
Describe to us your approach to both production and live performance.
[TBD] There's no real difference, we want to connect and have a good time, it's that simple. In a live setting, we are trying to make sure that people enjoy themselves, and get their money's worth for the ticket price. In the studio we always write to please ourselves, more than other people. That's how we might see any difference, anyway.
Explain to us the characteristics of your domicile city and your opinion on the impact that environment imposes on creativity.
[Ken] I don't live in a city anymore. London was sucking me dry. Both in my wallet, and in my humanity. City folks can be so cold towards each other. So it was time to move out and find a more natural way to live. Creatively, if you have the money, cities can be great. There are definite heartbeats and energies that you can tap into. But they are not the only places such energy exists. I think if you wish to be creative, you can be creative anywhere. Some places it will be easier, some harder. A person with imagination can just close their eyes, and can be anywhere they choose.
To delve on your political standpoint - what does the future outlook of people like Huxley and Orwell mean to you and how relevant are these visions to modernity?
[Ken] I think they were men of incredible vision, and we can see many aspects of their writing in the world today. This is obviously a tremendously sad thing, to the people who are still awake, and not skulled out on soma. One thing the modern world possesses, which they did not foresee, is the internet, and the blogosphere. Resistance is not futile, and there are more of us than them!
You all seem fairly detached from the scene and the distracting trends that often drives it off course - is this a conscious decision and where do your core influences lie?
[Ken] I can't speak for Martin and Rich, but I made the conscious decision to detach, because I believed it's up to the next generation to pick up the vibe and rub with it. After 23 years, I don't have to be at the front anymore. That's not to say that I'm lethargic, lazy, or not experimenting with sound. What I mean is that, I am comfortable and happy with the niche we have carved for ourselves, through diligence and hard work. We don't need to follow trends to become 'popular', because it was never about that. Popularity lasts for one minute, and then people are off for 'the next big thing'. Superficiality and shallowness is all that lies down that road. So I'm really not interested in going there.
On the issue of my 'core' influences. Well, those are the same as ever. That humanity doesn't need to be governed, farmed, taxed, squeezed or told what to do. Wise men many millennia ago, said that if left alone, everything will seek and find it's own level, and harmony will ensue. We may still be a thousand years away from that, maybe more, but there is always hope. In the meantime, we can bang drums and dance around without a care in the world. Much like our pagan ancestors did. And that makes me very happy indeed.
What are we to expect at your upcoming performance at Dystopia?
[TDB] There will mostly likely be beats. And some bass. A few melodies in there too. Some old tunes, and quite possibly some new. What you can expect, is that we will try very hard to make sure that people leave the room with a smile on their face.
Where next for TBD?
[TBD] Upstream, possibly
The Black Dog will be performing for Dystopia, this Saturday (18th Aug) at the Rhythm Factory, alongside Andy Stott, Ø [Phase] with support from our man, XI, and the Dystopia residents. If you want to get on to the concessions guestlist for the event, please e-mail your names to guestlist@slashdotdash.biz
More info on The Black Dog can be found on their Facebook Fan Page, and the same goes for Dystopia