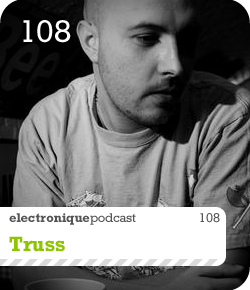 Truss was asked to provide a mix for the superb Electronique podcast and he duly obliged. He's been on fine form of late with his work on Perctrax and Stroboscopic Artefacts (you'll remember his remix on Lucy's 'Beelines For Working Bees' remix EP we covered a while back).
Truss - Wyesham - Unreleased
G-Man - Quo Vadis - Styrax Leaves
Group Niob - Vector - Phlox
Brawther - Chains & Funk - Brawther
Tob Jona - Adiabatic - A.r.t.less
Retail & Leisure - Your Reference To - Retail & Leisure
Mark Pritchard - Elephant Dub - Deep Mehdi Music
Casual Violence - Briefly Sexual - Aftertaste
Tube Jerk - Daddy's In The Basement Diggin' Gravy - iLL
Scuba - Reverse - Hotflush
Donor / Truss - Sude 5 - Thema
Donor / Truss - Endo 3 - Perc Trax
Alpha 606 - Pressurized City (Loop) - Interdimensional Transmissions
Junq - From Below - Cultivated Electronics
You can catch Truss in a couple of weeks time performing at the Stroboscopic Artefacts Showcase, hosted by our friends at EarToGround, at Corsica Studios in two weekends time on Saturday 2nd April. Both Slash Dot Dash residents, XI and Chris Stanford, will also be performing.
We have a limited number of £5 tickets available for this event. Please e-mail info@slashdotdash.biz to get yours now. They won't be around for long!